Spine release with foam roller
and your feet flat on the floor, and allow your arms to rest on the floor. Remain in this position until your body feels relaxed and completely comfortable. This may take the whole session—if this is the case, do not push your body further.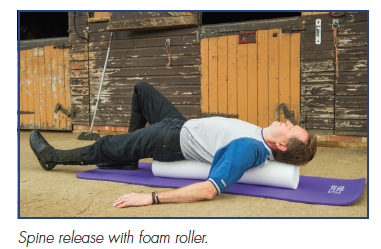 If you feel able, slowly take your arms out to the side, keeping contact with the floor. Stop as soon as you feel pulling and before you feel pain. Remember you may feel things anywhere in your body, and your arms might need to be at different levels. Wait in the position that you feel the tightness until it releases. This will probably take a few minutes.
Do the same with your legs, but one at a time (otherwise you might fall off the roller!). Find a position of tightness and wait for the release. Please note that your body's requirements will be different every time you use your roller. Therefore, remember to follow your body—it doesn't matter how far you move, as long as you stop at the barriers.
If you find the roller too high for your back to be comfortable, try using a half roller instead.
Alternative releases:
Chapter 5: Fibromyalgia—the constructive rest position
Chapter 6: Lower back too arched—psoas release
Chapter 6: Unable to straighten after dismounting—psoas release
Neck Pain
Like your back, your neck can be affected by the muscles, tendons, joints, and ligaments in the area causing pain, and the pain will be made worse if you are doing anything that puts strain on it.
Often pain that is felt at the back of your neck is due to tension in the muscles at the front. This pulls your head and spine forward, with gravity also pushing down. So to stop yourself looking at the ground the whole time, the muscles at the back of your neck have to work harder to lift your head back into a more upright position.
If you have had any trauma to your head or neck and then you experience any of the following symptoms, it is important to get checked by a medical professional:
Extreme pain in your neck or arms
Dizziness
Bad headache
Weakness in one or both arms
Urinary or bowel incontinence
Difficulty controlling your legs when walking.
How your riding is affected
The main effect that neck pain has on your riding is due to the tension that is almost always associated with it. As your head is relatively heavy and riding requires you to be balanced, the…